02.01.20
LifeFlight Retrieval Medicine needs your support more than ever!
We're currently seeking critical care doctors (ACEM, CICM, ANZCA, ACRRM, RACGP), either Registrars or Consultants who may be affected by the current health crisis, resulting in loss of income.
If you have been affected by the current health crisis with your future working plans being postponed or not available anymore – please consider joining us.
If you meet our 'Minimum Clinical Criteria' please read our 'Resident Career Pathway' below to express your interest or apply for an available position.
Become a Retrieval Registrar with LifeFlight and develop your knowledge and skills through challenging, varied work across Australia and around the world. You will receive clinical supervision and ongoing education along with an attractive salary. You will work in a dynamic environment that allows you to develop a broad range of skills in retrieval medicine, predominantly in rotary-wing aircraft, and pre-hospital care.
Senior Registrar positions recognise those medical officers who may hold a Specialist Qualification outside Australia in a relevant field; of a comparable country and meet the mandatory criteria for a Retrieval Consultant apart from holding Specialist Registration with the Medical Board of Australia and/or having relevant Pre-Hospital Retrieval Medicine experience. Medical officers who hold Specialist Registration within Australian, but do not have relevant Pre-Hospital Retrieval Medicine experience would also be considered a Senior Registrar
For further information, please contact recruitment@lifeflight.org.au

Intern – Compulsory Terms
JHO – Start looking at gaining time in critical care terms (ICU / Anaes / ED) (ACRRM – Paeds & Anaes)
SHO – Continue gaining time in critical care terms (ICU / Anaes / ED)
*Keep a log book of your time in the other specialties! For example – keep a log book for your time in Anaesthetics if you decide to specialise in ED. If you find it difficult to gain ED experience, Rural and remote experience does count for this – so consider a rural term if offered. Depending on what Critical Care specialty you are interested in, there will be an issue in securing time in the other areas – for example, in ED, it can be difficult to secure a 6-month post in Anaesthetics as a Registrar, therefore these resident years count and are important!
PHO – If you are unable to secure terms or half terms in any of the above, see if you can secure a 3 to 6-month post at this level
Registrar – the following Colleges are recognised for Pre-Hospital Retrieval Medicine: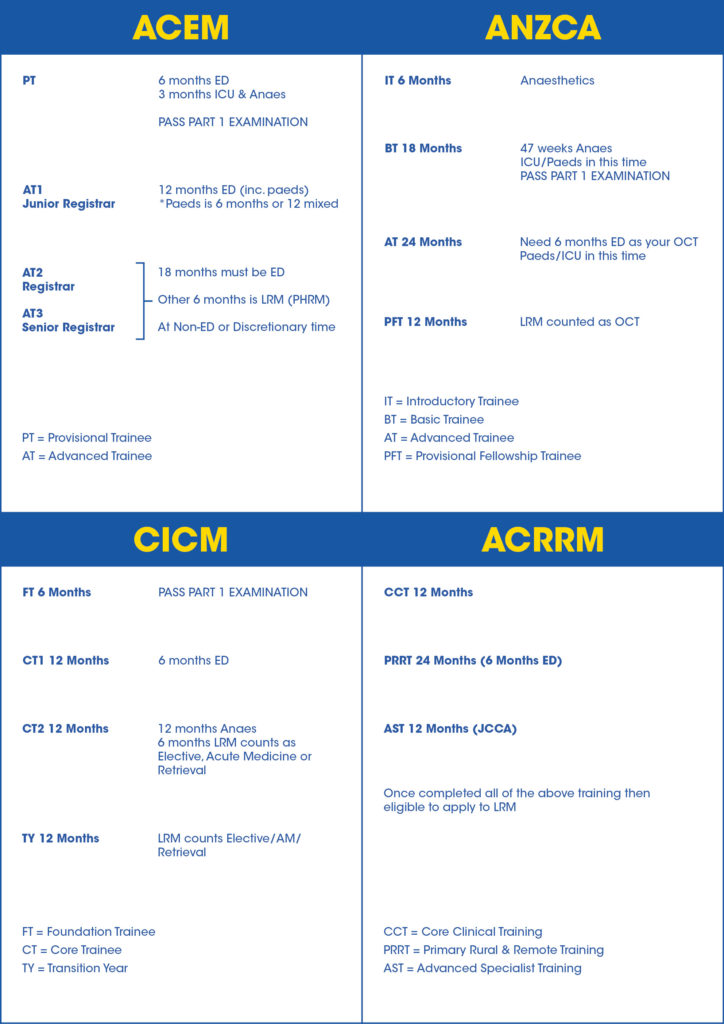 The easiest way to remember how to make yourself eligible with LRM is when at your training Registrar level you complete:
6 months ED
6 months Anaesthetics
6 months ICU
6 months Paediatrics Anaes / ICU / ED (or 12 months in a mixed department of Adult & Paeds)
Please note – there is some flexibility around these, but this is the simplest way to show the minimum clinical requirements. Flexibility comes in with the understanding that College training programs do differ and rotations in all of these fields are not mandatory to finish your critical care specialty. This is why it is important to gain time in these areas as a resident or even better a PHO and to keep a logbook.
Rural and remote rotations help with counting towards ED experience if you fall short and in gaining the ability to demonstrate alternative, equivalent experience in the management of undifferentiated patients.
It is important to keep a logbook of your Anaesthetic procedures (whether it be during time in an Emergency Department and/or Anaesthetic Department) and will be requested if you are not able to gain a full 6 months in Anaesthetics.
There are written guidelines outlining this information in much greater detail and can be given to you should wish to read it thoroughly.
Also remember, if you are unable to commit to this exact formula during your training years, you are always welcome to apply to LRM and this is simply counted as extra time and will not affect gaining your Fellowship.
Hold or be eligible for registration as a Medical Practitioner with the Medical Board of Australia/Australian Health Practitioners Regulation Agency (AHPRA)
Completion of Fellowship Primary Exams (or equivalent)
Be in the final two years of advanced post-graduate training in a critical care discipline (emergency medicine, anaesthesia or intensive care medicine)
Have completed a minimum of six months experience at Training Registrar level (or equivalent) in:
1. Emergency medicine
2. Anaesthesia
3. Intensive care medicine, and
4. Paediatric emergency medicine or paediatric anaesthesia or paediatric intensive care medicine or 12 months in accredited mixed emergency medicine
Should have EFAST experience and hold an EFAST certification
Be reasonably fit – able to:
1. Two arm lift 25kg to waist height
2. Carry 20kg backpack 1km
3. Run 2.4km in 15min
Excellent communication skills and the ability to work as part of a multi-disciplinary team
Be eligible to work in Australia without restriction, or the ability to hold a working visa
Eligibility and successful application for an Aviation Security Identification Card (ASIC)
Retrieval Services Queensland (RSQ) support and approve scope of practice (credentialing).
To find out more about becoming a Retrieval Registrar at LifeFlight, apply online or contact us today for a confidential conversation.
Brisbane (Brisbane Airport and Archerfield)
Cairns
Mackay
Rockhampton
Roma
Sunshine Coast (Maroochydore)
Toowoomba
Townsville
LifeFlight Critical Care Doctors fly on board a variety of medically equipped aircraft and road vehicles. This includes:
Rotary Wing: Bell 412, AW 139, BK 117 (all twin turbine aircraft)
Fixed Wing Jet aircraft: Learjet 45 and Challenger 604 air ambulances for both domestic and international transfers through the Asia Pacific region
Fixed Wing propeller aircraft: King Air B200 on board the Royal Flying Doctors Service
Road: Road missions with the Queensland Ambulance Service.
We help you adjust to your work as a Retrieval Registrar by providing a seven (7) day intensive training course at our state-of-the-art LifeFlight Training Academy. This includes specific operational training for rotary and fixed-wing retrieval medicine and clinical skills training in emergency retrieval and pre-hospital care.
This includes:
Helicopter and plane operations
Pre-hospital care
Winching operations
Disaster management
International retrieval
Helicopter Underwater Escape Training (HUET)
Emergency Breathing Systems (EBS)
This isn't a rote learning course. Our emphasis is on safety and ensuring you become demonstrably capable in each of these key areas. This training also counts towards your Postgraduate Certificate in Aeromedical Retrieval (with James Cook University). LifeFlight Retrieval Medicine holds current accreditation with the Australasian College of Emergency Medicine, recognised by both the College of Intensive Care Medicine and Australian & New Zealand College of Anaesthetists.